Jasmine Mans to Share Her New Poetry Book via eventbrite (3/12)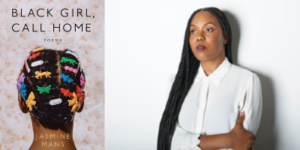 Jasmine Mans, author of BLACK GIRL, CALL HOME: Poems (Berkley), will be in conversation with Danez Smith at a virtual event hosted by Books Are Magic via Zoom on Friday, March 12 at 8:00 pm (ET).
From spoken word poet Jasmine Mans comes an unforgettable poetry collection about race, feminism, and queer identity. With echoes of Gwendolyn Brooks and Sonia Sanchez, Mans writes to call herself—and us—home. Each poem explores what it means to be a daughter of Newark, and America—and the painful, joyous path to adulthood as a young, queer Black woman.
BLACK GIRL, CALL HOME is a love letter to the wandering Black girl and a vital companion to any woman on a journey to find truth, belonging, and healing.
Jasmine Mans is a Black American poet, artist from Newark, New Jersey. She graduated from the University of Wisconsin Madison, with a B.A. in African American Studies. Her debut collection of poetry, Chalk Outlines of Snow Angels, was published in 2012. Mans is the resident poet at the Newark Public Library. She was a member of The Strivers Row Collective.
!! As a reminder, if you are posting to a personal or other non-PRH account you must include the hashtag #TeamPRH !!
Posted: March 10, 2021