Jason DeParle to Discuss a Family Saga of Migration via Zoom (5/7)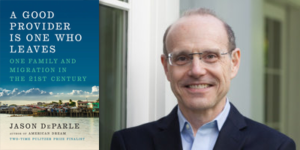 Jason DeParle, author of A GOOD PROVIDER IS ONE WHO LEAVES: One Family and Migration in the 21st Century, (Viking), will be in conversation with Dan Doernberg at a virtual Shelf Life event hosted by the Virginia Festival of the Book via Zoom on Thursday, May 7, at 12:00pm (ET).
The definitive chronicle of our new age of global migration, A GOOD PROVIDER IS ONE WHO LEAVES is told through the multi-generational saga of a Filipino family. Migration is changing the world–reordering politics, economics, and cultures across the globe. With nearly 45 million immigrants in the United States, few issues are as polarizing. But if the politics of immigration is broken, immigration itself–tens of millions of people gathered from every corner of the globe–remains an underappreciated American success. Expertly combining the personal and panoramic, DeParle presents a family saga and a global phenomenon.
DeParle is a reporter for The New York Times and has written extensively about poverty and immigration. His book, AMERICAN DREAM: Three Women, Ten Kids, and a Nation's Drive to End Welfare was a New York Times Notable Book and won the Helen Bernstein Award from the New York City Library. He was an Emerson Fellow at New America. He is a recipient of the George Polk Award and is a two-time finalist for the Pulitzer Prize.
!! As a reminder, if you are a PRH employee posting to a personal or other non-PRH account, you must include the hashtag #TeamPRH !! 
Posted: May 6, 2020