Jason Stanley In Conversation with Timothy Snyder about HOW FACISM WORKS via Crowdcast (5/29)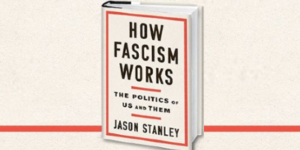 Jason Stanley, author of HOW FASCISM WORKS: The Politics of Us and Them (Random House), will be in conversation with Timothy Snyder, author of ON TYRANNY (Tim Duggan Books), hosted by Midtown Scholar Bookstore's Virtual Event Series, via Crowdcast on Friday, May 29 at 7:00pm (ET).
With a new preface, Stanley's HOW FASCISM WORKS shows how fascist politics are running rampant in America today—and spreading around the world. By uncovering disturbing patterns that are as prevalent today as ever, Stanley reveals that the stuff of politics—charged by rhetoric and myth—can quickly become policy and reality. Only by recognizing fascists politics, he argues, may we resist its most harmful effects and return to democratic ideals.
Jason Stanley is the Jacob Urowsky Professor of Philosophy at Yale University. He is the author of five books, including How Propaganda Works, winner of the Prose Award in Philosophy from the Association of American Publishers, and HOW FASCISM WORKS: The Politics of Us and Them, about which Citizen author Claudia Rankine states: "No single book is as relevant to our present moment." Stanley serves on the board of the Prison Policy Initiative and writes frequently about propaganda, free speech, mass incarceration, democracy, and authoritarianism for The New York Times, The Washington Post, Boston Review, The Chronicle of Higher Education, and The Guardian.
Timothy Snyder is the Levin Professor of History at Yale University and author of such books as ON TYRANNY, a guide for surviving and resisting America's turn towards authoritarianism, a call to arms and a guide to resistance, with invaluable ideas for how we can preserve our freedoms in the uncertain years to come.
!! As a reminder, if you are a PRH employee posting to a personal or other non-PRH account, you must include the hashtag #TeamPRH !! 
Posted: May 28, 2020