Jeff Tweedy Celebrates HOW TO WRITE ONE SONG with Nick Offerman via Noonchorus.com (10/14)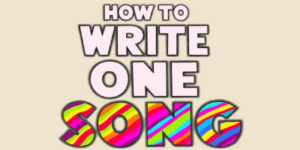 The Hideout and Seminary Co-Op proudly present Jeff Tweedy, who talk about his new book, HOW TO WRITE ONE SONG (Dutton), in conversation with actor, author, and humorist Nick Offerman during a virtual program (Tweedy will also play one or two songs) hosted by Noonchorus.com on Wednesday, October 13 at 8:00 pm (ET).
Tweedy's HOW TO WRITE ONE SONG brings readers into the intimate process of writing one song—lyrics, music, and putting it all together—and accesses the deep sense of wonder that remains at the heart of this curious, yet incredibly fulfilling, artistic act. But it's equally about the importance of making creativity part of your life every day, and of experiencing the hope, inspiration, and joy available to anyone who's willing to get started.
As the founding member and leader of the Grammy Award–winning American rock band Wilco, and before that the cofounder of the alt‐country band Uncle Tupelo, Jeff Tweedy is one of contemporary music's most accomplished songwriters, musicians, and performers. Jeff has released two solo albums, written original songs for eleven Wilco albums, and is the author of the New York Times bestseller Let's Go (So We Can Get Back): A Memoir of Recording and Discording with Wilco, Etc. He lives in Chicago with his family.
!! As a reminder, if you are posting to a personal or other non-PRH account you must include the hashtag #TeamPRH !!
Posted: October 12, 2020