Jen Sincero will Speak about Her BADASS HABITS via Zoom (12/11)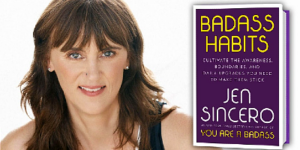 Jen Sincero, author of BADASS HABITS (Penguin Life), will speak about her new book at a virtual event hosted by the Boulder Bookstore via Zoom on Friday, December 11 at 7:00 pm (ET). 
In BADASS HABITS, Sincero gets to the core of transformation: habits–breaking, making, understanding, and sticking with them. It's a eureka-sparking, easy-to-digest look at how our habits make us who we are, from the measly moments that happen in private to the resolutions we loudly broadcast (and, erm, often don't keep) on social media. The book includes enlightening interviews with people who've successfully strengthened their discipline backbones, new perspective on how to train our brains to become our best selves, and offers a simple, 21 day, step-by-step guide for ditching habits that don't serve us and developing the habits we deem most important.
Jen Sincero is a bestselling author, success coach, and motivational speaker who spent more than a decade traveling the world helping people transform their lives and their bank accounts via her public appearances, private sessions, coaching seminars, and books, including the New York Times bestseller YOU ARE A BADASS: How to Stop Doubting Your Greatness and Start Living an Awesome Life.  Sincero currently lives in Santa Fe, New Mexico.
!! As a reminder, if you are posting to a personal or other non-PRH account you must include the hashtag #TeamPRH !!                
Posted: December 9, 2020