Jenna Bush Hager and GMA Pick Putnam Novels for Their Book Clubs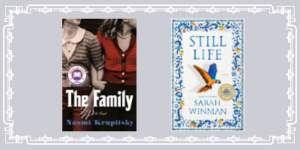 Two novels from G.P. Putnam's Sons have been selected as national book club picks. Jenna Bush Hager chose Naomi Krupitsky's THE FAMILY as the "Read with Jenna" Book Club Pick for November, and Good Morning America selected Sarah Winman's STILL LIFE as their "GMA Book Club" pick for November. This is the second time G.P. Putnam's Sons has had two major book club picks in the same month.
THE FAMILY is Naomi Krupitsky's captivating debut novel about the tangled fates of two best friends and daughters of the Italian mafia, and a coming-of-age story of twentieth-century Brooklyn itself. In THE FAMILY, Krupitsky, an assistant editor at the Vida Review and a bookseller at Black Bird Bookstore, probes the complexities of friendship, identity, and filial responsibility through the story of Sofia and Antonia. THE FAMILY has garnered plenty of prepublication buzz with a starred Booklist review, coverage in The Washington Post, San Francisco Chronicle, Historical Novels Review, PopSugar, Katie Couric Media, and more. Naomi was part of the Pub Lunch Buzz Books Editors Panel in May and has upcoming events at Black Bird Bookstore and Book Passage in San Francisco and Barnes & Noble.
STILL LIFE by Sarah Winman is a captivating, bighearted story of friends brought together by love, war, and art, by the celebrated author of TIN MAN. STILL LIFE centers on the enduring friendship between a young English soldier and a middle-aged art historian formed amongst the rubble of war-torn Italy in the aftermath of World War II. With spare, evocative prose and impossibly vivid characters as indelible as John Boyne's The Hearts Invisible Furies, Winman's latest captures the true intimacies of life, love, and friendship. A highly decorated literary author who has successfully crossed over into the commercial sphere, Winman's TIN MAN was a finalist for the Indies Choice Award and the Ferro-Grumly Award for LGBTQ Fiction, and was shortlisted for the Costa Novel of the Year Award. STILL LIFE, in addition to the GMA book club, was also an Indie Next pick in November, and received glowing praise from The New York Times Book Review, Entertainment Weekly, Real Simple, and starred reviews from Booklist, Kirkus, and BookPage.
Posted: November 9, 2021