Jennifer Ackerman Shares Audio/Visual Presentation of THE BIRD WAY via Zoom (7/12)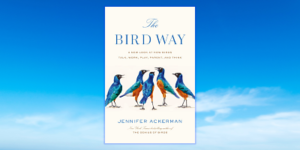 Jennifer Ackerman presents her new book THE BIRD WAY (Penguin Press) with a discussion, interactive birding visuals, and an audience Q&A, hosted by Politics & Prose bookstore via Zoom on Sunday, July 12, at 5:00pm (ET).
Drawing on personal observations, the latest science, and her bird-related travel around the world, from the tropical rainforests of eastern Australia and the remote woodlands of northern Japan, to the rolling hills of lower Austria and the islands of Alaska's Kachemak Bay, in THE BIRD WAY Jennifer Ackerman shows there is clearly no single bird way of being. In every respect, in plumage, form, song, flight, lifestyle, niche, and behavior, birds vary. It is what we love about them. As E.O Wilson once said, when you have seen one bird, you have not seen them all.
Ackerman has been writing about science, nature, and human biology for almost three decades. Her most recent books include The Genius of Birds, Sex Sleep Eat Drink Dream: A Day in the Life of Your Body; Ah-Choo: The Uncommon Life of Your Common Cold; Chance in the House of Fate: A Natural History of Heredity; and Notes from the Shore. A contributor to Scientific American, National Geographic, The New York Times, and many other publications, Ackerman is the recipient of a National Endowment for the Arts Literature Fellowship in Nonfiction, a Bunting Fellowship, and a grant from the Alfred P. Sloan Foundation.
!! As a reminder, if you are posting to a personal or other non-PRH account you must include the hashtag #TeamPRH !!
Posted: July 9, 2020