Jennifer L. Holm Presents THE LION OF MARS via Facebook (3/17)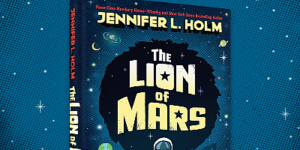 Jennifer L. Holm, author of THE LION OF MARS (Random House Books for Young Readers), is featured at a virtual event hosted by Word Bookstore (Brooklyn, NY) via Facebook on Wednesday, March 17 at 4:00 pm (ET).
THE LION OF MARS is an out-of-this-world middle grade novel about a kid raised on Mars who learns that he can't be held back by the fears of the grown-ups around him. Bell has spent his whole life – all eleven years of it – on Mars. But he's still just a regular kid – he loves cats, any kind of cake, and is curious about the secrets the adults in the US colony are keeping. Like, why don't have contact with anyone on the other Mars colonies? Why are they so isolated? When a virus breaks out and the grown-ups all fall ill, Bell and the other children are the only ones who can help. It's up to Bell – a regular kid in a very different world – to uncover the truth and save his family … and possibly unite an entire planet.
Mars may be a world far, far away, but in the hands of Jennifer L. Holm, it can't help but feel like home.
Jennifer L. Holm is a New York Times bestselling children's author and the recipient of three Newbery Honors for her novels Our Only May Amelia, Penny From Heaven, and Turtle in Paradise. Jennifer collaborates with her brother, Matthew Holm, on two graphic novel series—the Eisner Award-winning Babymouse series and the bestselling Squish series. She lives in California with her husband and two children.
!! As a reminder, if you are posting to a personal or other non-PRH account you must include the hashtag #TeamPRH !!
Posted: March 14, 2021