Jennifer Probst and Samantha Vérant Explore Europe Virtually via Zoom (1/23)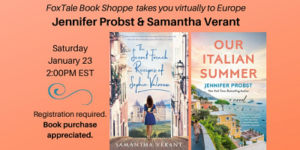 FoxTale Book Shoppe takes you virtually to Europe with Jennifer Probst, author of OUR ITALIAN SUMMER (Berkley) and Samantha Vérant, author of THE SECRET FRENCH RECIPES OF SOPHIE VALROUX (Berkley), in conversation virtually via Zoom on Saturday, January 23 at 2:00 pm (ET).
In OUR ITALIAN SUMMER, three generations of women in the Ferrari family must heal the broken pieces of their lives on a trip of a lifetime through picturesqueItaly.
Jennifer Probst is the New York Times bestselling author of the Billionaire Builders series, the Searching For . . . series, the Marriage to a Billionaire series, the Steele Brothers series, the Stay series, and the Sunshine Sisters series. Like some of her characters, Probst, along with her husband and two sons, calls New York's Hudson Valley home. When she isn't traveling to meet readers, she enjoys reading, watching "shameful reality television," and visiting a local Hudson Valley animal shelter.
In THE SECRET FRENCH RECIPES OF SOPHIE VALROU, a disgraced chef rediscovers her passion for food and her roots in this stunning novel rich in culture and full of delectable recipes.
Samantha Vérant is a travel addict, a self-professed oenophile, and a determined, if occasionally unconventional, at home French chef. She lives in southwestern France, where she's married to a sexy French rocket scientist she met in 1989 (but ignored for twenty years), a stepmom to two incredible kids, and the adoptive mother to a ridiculously adorable French cat. When she's not trekking from Provence to the Pyrénées or embracing her inner Julia Child, Sam is making her best effort to relearn those dreaded conjugations.
!! As a reminder, if you are posting to a personal or other non-PRH account you must include the hashtag #TeamPRH !!
Posted: January 21, 2021