Jennifer Steil Reads from Her Novel EXILE MUSIC via Instagram and Facebook (4/29)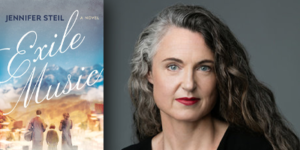 Jennifer Steil, author of EXILE MUSIC (Viking), will present a reading of her new novel via Instagram and Facebook on Wednesday, April 29 at 3:00pm (ET).
Based on an unexplored slice of World War II history, EXILE MUSIC is the captivating story of a young Jewish girl whose family flees refined and urbane Vienna for safe harbor in the mountains of Bolivia
Steil is the author of two previous books, The Woman Who Fell from the Sky, a memoir of her experience as a journalist in Yemen, and The Ambassador's Wife, a novel about a hostage crisis that was also inspired by Steil's own experience. She currently lives in Tashkent, Uzbekistan, with her husband and daughter.
!!A reminder for PRH employees: If you are posting this article to a personal or other non-PRH account you must include the hashtag #TeamPRH.!!
Posted: April 28, 2020