Jerry Pinkney, Caldecott Medal–Winning Illustrator, 1939–2021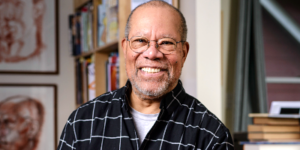 Jerry Pinkney, one of the most heralded children's book illustrators of all time, has passed away. The illustrator of more than one hundred books, he had the rare distinction of being the recipient of five Caldecott Honors and the winner of the 2010 Caldecott Medal for The Lion and the Mouse.
He died at age eighty-two after a brief non-COVID-related illness on Wednesday, October 20.
A titan in the publishing industry, Pinkney was in the vanguard of those depicting Black life in children's books and a champion of the work of emerging Black artists and illustrators. He won the Coretta Scott King Illustrator Award five times and the Coretta Scott King Illustrator Honor four times, and was awarded the 2016 Laura Ingalls Wilder Award for lifetime achievement (now known as the Children's Literature Legacy Award) and the 2016 Coretta Scott King—Virginia Hamilton Award for lifetime achievement.
He found great success in retellings that featured animal characters and was the creator of such acclaimed works as The Tortoise & the Hare (2013) and 2020's The Little Mermaid, which the New York Times Book Review called "lovingly rendered with rich detail." At the time of his death, he was working on a memoir with his wife, minister and author Gloria Jean Pinkney, his high school sweetheart of sixty-four years, detailing his childhood struggling with a learning disability and his path to becoming an artist against the odds.
Lauri Hornik, President and Publisher, Dial Books for Young Readers, Penguin Young Readers, said, "Jerry published numerous, glorious picture books with us through more than 30 years of working together. His contributions helped shape Dial's list and mission, and they continue to be pillars of our backlist. Just last month we released the paperback edition of Jerry's acclaimed Black Cowboys, Wild Horses, a book that was especially important to him.
"Jerry will be remembered by all who knew him not only for his extraordinary artistry but also for his warmth and grace. He was a generous collaborator and enthusiastic partner in every step of a book's journey. We're sure that everyone who spent quality time with Jerry has memories of things he shared with them and taught them. We will miss him dearly, and our hearts go out to his family and his large community of friends."
Anne Schwartz, VP & Publisher, Anne Schwartz Books, Random House Children's Books said, "Jerry and I first worked together on the picture book, THE PATCHWORK QUILT, in 1985 and Sarah Hokanson and I had just received his sketches for THE LITTLEST DROP, when he died. Jerry taught me so much about what was important in our world. He was not just a phenomenal talent but also a kind, generous man whose belief in collaboration and attention to the entire book-making process was inspirational. And he knew how to have a good time along the way. Whether we were reviewing a dummy around a table or hanging out at a convention where Jerry had won yet another award, it was always a treat to be with him.
"Jerry transformed the face of children's books. He began illustrating at a time when books by black illustrators were practically nonexistent, creating award-winning, child-friendly books with black characters, as well as mentoring so many young artists of color. He was a groundbreaking force who never believed that he was done growing as an artist, and I—along with so many others–will miss him deeply."
"Jerry was a devoted husband, father, grandfather, and great-grandfather whose impact influenced the creative endeavors of so many in our family," said Gloria Jean Pinkney.
A native of Philadelphia, Jerry Pinkney studied at the Philadelphia College of Art (now the University of the Arts). He began illustrating children's books in 1964 with The Adventures of Spider: West African Folktales, and was also the illustrator of the original iconic cover of Mildred Taylor's Newbery Award–winning classic Roll of Thunder, Hear My Cry. He also illustrated the first eight Black History stamps for the US Postal Service, and served on the Citizens' Stamp Advisory Committee. He was a member of the National Endowment for the Arts, was the first children's book illustrator elected to the American Academy of Arts and Sciences, was elected into the Society of Illustrators Hall of Fame, and was the most exhibited illustrator in American museums.
In advice for children, Jerry Pinkney said, "For the young person who is struggling in school, never forget there are many different ways to learn. Be curious. Do not be afraid to try. Do not be disappointed when making mistakes. You will discover your own unique way of understanding the things being taught. Learn from mistakes. Everything that happens to you will frame who you are, and who you will become. Your path to success will follow."
Jerry Pinkney is survived by his wife of sixty-one years, as well as by his daughter, Troy, and his three sons, Brian, Scott, and Myles Pinkney, all artists, and nine living grandchildren and three great-grandchildren.
In lieu of flowers, please donate to the Dyslexia Foundation (dyslexiafoundation.org) or the Teatown Lake Reservation Preserve and Education Center (teatown.org).
Posted: October 22, 2021