Jessica Goudeau to Speak with Wendy Pearlman about AFTER THE LAST BORDER via Zoom (8/6)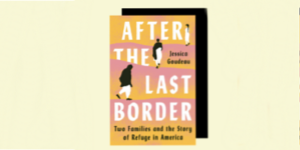 Jessica Goudeau, author of AFTER THE LAST BORDER: Two Families and the Story of Refuge in America (Viking), will be speaking about her new book with Wendy Pearlman for the next installment in Bookends & Beginnings' Literary Lunch Break virtual event series via Zoom on Thursday, August 6 at 2:30 pm (ET).
AFTER THE LAST BORDER is the story of two refugee families and their hope and resilience as they fight to survive and belong in America. The narrative situates a dramatic, character-driven story within a larger history–the evolution of modern refugee resettlement in the United States, beginning with World War II and ending with current closed-door policies–revealing not just how America's changing attitudes toward refugees has influenced policies and laws, but also the profound effect on human lives.
Jessica Goudeau has written for The Atlantic, The Washington Post, Los Angeles Times, Teen Vogue, among other places, and is a former columnist for Catapult. She produced projects for Teen Vogue ("Ask a Syrian Girl") and A Line Birds Cannot See, a documentary about a young girl who crossed the border into the US on her own. She has a PhD in literature from the University of Texas and served as a Mellon Writing Fellow and Interim Writing Center Director at Southwestern University. Goudeau has spent more than a decade working with refugees in Austin, TX and is the cofounder of Hill Tribers, a nonprofit that provided supplemental income for Burmese refugee artisans for seven years.
!! As a reminder, if you are posting to a personal or other non-PRH account you must include the hashtag #TeamPRH !!
Posted: August 5, 2020