Jessica Kim on "Middle Grade Lunch Bunch" Panel via Everywhere Book Fest Online (5/2)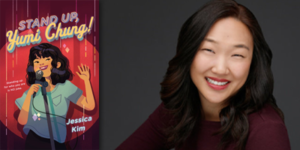 Jessica Kim, author of STAND UP, YUMI CHUNG! (Kokila),will be featured on the Everywhere Book Fest "Middle Grade Lunch Bunch" panel, as middle grade authors share what's in their characters' lunchboxes. This virtual event can be enjoyed via Everywhere Book Fest online, Saturday, May 2, at 2:00pm (ET).
STAND UP, YUMI CHUNG!, one lie snowballs into a full-blown double life in this irresistible story about an aspiring stand-up comedian. As a case of mistaken identity unravels, Yumi must decide to stand up and reveal the truth or risk losing her dreams and disappointing everyone she cares about.
Jessica Kim writes about Asian American girls finding their way in the world. Before she was an author, Jessica studied education at UC Berkeley and spent ten years teaching third, fourth, and fifth grades in public schools. Like Yumi, Jessica lives with her family in Southern California and can't get enough Hot Cheetos, stand-up comedy, and Korean barbecue.
!! As a reminder, if you are posting to a personal or other non-PRH account you must include the hashtag #TeamPRH !!
Posted: May 1, 2020