Jim Carrey and Dana Vachon to Virtually Launch Their New Novel via Zoom (7/9)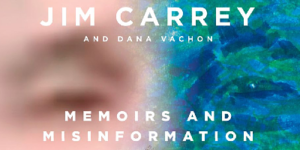 Books & Books presents an exclusive virtual appearance by award-winning actor Jim Carrey and co-writer Dana Vachon for the launch of their book, MEMOIRS AND MISINFORMATION (Knopf). Carrey and Vachon will be in conversation with Mitchell Kaplan of Books & Books, introduced by author Judy Blume, via Zoom on Thursday, July 8 at 9:00 pm (ET).
MEMOIRS AND MISINFORMATION is a fearless semi-autobiographical novel, a deconstruction of persona. In it, Jim Carrey and Dana Vachon have fashioned a story about acting, Hollywood, agents, celebrity, privilege, friendship, romance, addiction to relevance, fear of personal erasure, our "one big soul," Canada, and a cataclysmic ending of the world–apocalypses within and without.
!! As a reminder, if you are posting to a personal or other non-PRH account you must include the hashtag #TeamPRH !!
Posted: July 8, 2020