Jimmy Kimmel's Debut Children's Picture Book Reminds Us to Be Silly in a Serious Way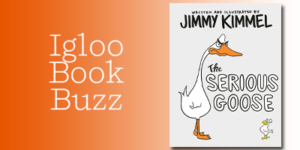 This week's Igloo Book Buzz selection is Jimmy Kimmel's THE SERIOUS GOOSE (Random House Books for Young Readers), #1 on The New York Times Children's Picture Books bestseller list. The late-night host of Jimmy Kimmel Live! wrote, illustrated and lettered his delightfully original, fun and funny picture book, challenging young readers to bring the silly out of a very Serious Goose, reminding us all to be silly in a very serious way.
Kimmel's daughter, Jane, was the inspiration for the book. "When she was about 2 years old, I'd call Jane 'goose,' and ask her if she's going to be a serious or a silly goose," says Kimmel. "And it just became a thing; it became her nickname."
Kimmel adds, "When I was a kid, I wanted to draw comic books. So when you get a chance like this to use a dormant ability you've neglected, in a way it validates some expectation your parents had of you."
Mallory Loehr, SVP & Publisher, RH, Golden, Doubleday & Crown, Random House Children's Books, and Martha Rago, Executive Creative Director, Random House Children's Books, worked with Kimmel on this project. Martha and Mallory said: "The best picture books are those in which the art
and text are seamlessly entwined. Jimmy seemed to know this instinctively. He was tireless in refining and perfecting the words and the drawings to make a perfect balance of the two. For someone known for his silly side he took this endeavor VERY seriously. His editor and art director were seriously awed!"
Kimmel's proceeds from sales of THE SERIOUS GOOSE will be donated to Children's Hospital Los Angeles (CHLA) and children's hospitals around the country.
Watch video of Kimmel reading THE SERIOUS GOOSE to his children:
Posted: December 13, 2019