Jo Marchant Presents THE HUMAN COSMOS via Zoom (1/26)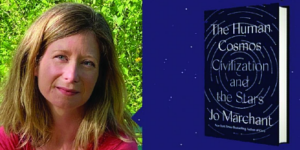 Join Jo Marchant as she discusses her book THE HUMAN COSMOS (Dutton) at a virtual event hosted by the Boston Athenaeum via Zoom on Tuesday, January 26 at 12:00 pm (ET).
An historically unprecedented disconnect between humanity and the heavens has opened. Jo Marchant's book can begin to heal it. For at least 20,000 years, we have led not just an earthly existence but a cosmic one. Celestial cycles drove every aspect of our daily lives. Our innate relationship with the stars shaped who we are–our art, religious beliefs, social status, scientific advances, and even our biology. But over the last few centuries we have separated ourselves from the universe that surrounds us.
Marchant takes readers to the Hall of the Bulls in the caves at Lascaux in France, and to the summer solstice at a 5,000-year-old tomb at New Grange in Ireland. We discover Chumash cosmology and visit medieval monks grappling with the nature of time and Tahitian sailors navigating by the stars. We discover how light reveals the chemical composition of the sun, and we are with Einstein as he works out that space and time are one and the same. A four-billion-year-old meteor inspires a search for extraterrestrial life. The cosmically liberating, summary revelation is that star-gazing made us human.
Jo Marchant is an award-winning science journalist. She has a PhD in genetics and medical microbiology, and an MSc in science communication. She has worked as an editor at New Scientist and Nature, and her articles have appeared in The Guardian, Wired, Observer, New Scientist, and Nature. Marchant's previous book, Cure, hit the New York Times bestseller hardcover nonfiction and science lists and was licensed to twenty-seven countries. She is also author of Decoding the Heavens, which was, like Cure, shortlisted for the Royal Society Prize for Science Books.
!! As a reminder, if you are posting to a personal or other non-PRH account you must include the hashtag #TeamPRH !!
Posted: January 22, 2021