Joana Avillez and Molly Young Celebrate NYC in D C-T! Catch Them at 5/7 Event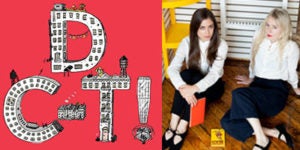 Illustrator Joana Avillez and writer Molly Young have joined forces to create a charming, illustrated ode to NYC: D C-T! ("The City!"), published on May 1 by Penguin Press. Combining the puzzle language first created by William Steig (author of CDB! and creator of Shrek) with humorous observations of their beloved city, D C-T! is endlessly entertaining and a "breezy charmer" (Publishers Weekly).
NewYorker.com ran an excerpt last week, New York Magazine deemed the book highbrow and brilliant in their approval matrix, and WWD interviewed Avillez and Young. Nylon created a video interview in which Joana and Molly recreated scenes from the book. Check it out here.
You can catch Joana and Molly in conversation with Tamara Shopsin at Books Are Magic in Brooklyn on Monday, May 7
C U D-R (see you there)!
Posted: May 4, 2018