John Cena to Release Two New Books, Featuring Encouragements for Readers of All Ages, This Spring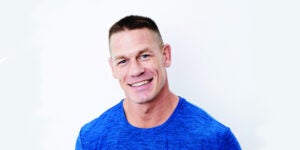 #1 New York Times bestselling author, popular entertainer and motivational tweeter John Cena will release two new books of uplifting quotes adapted from his popular Twitter feed (@JohnCena), it was announced by Mallory Loehr, Executive Vice President and Publisher, Random House Books for Young Readers Group, and Kara Welsh, EVP and Publisher, Ballantine Bantam Dell. The children's book DO YOUR BEST EVERY DAY TO DO YOUR BEST EVERY DAY (Random House Books for Young Readers / Ages 8–12) and BE A WORK IN PROGRESS (Ballantine) feature illustrations alongside motivational and inspirational thoughts adapted from Cena's Twitter feed that spotlight his core values: hard work, honesty, and self-reflection. Both titles will be published on April 6, 2021.
From John Cena: "We all have a lot on our minds, especially now, given the current state of the world. Words of encouragement can help us stay motivated and focused on what's really important, and I hope that both Do Your Best Every Day to Do Your Best Every Day and Be a Work in Progress will inspire kids and adults to be the best versions of themselves."
In DO YOUR BEST EVERY DAY TO DO YOUR BEST EVERY DAY (illustrations by Susanna Harrison), a full-color children's book, Cena shares thoughts and advice encouraging young readers to make the world a better place, to be their truest selves, and to be accepting and generous. Aimed particularly at elementary and middle schoolers, the content includes affirmations about growing up and moving forward, and is just right for young readers experiencing exciting milestones such as graduations, birthdays, starting school, new siblings, and other big life moments.
In BE A WORK IN PROGRESS (illustrations by Valeria Petrone), readers of all ages can be heartened by Cena's perspective on perseverance, ambition, and always challenging ourselves to be better. He encourages readers to be bold, brave, and open-minded, to embrace discomfort, and to make the most of opportunities. Heartfelt and hopeful, the book is the pick-me-up readers will turn to again and again to reap the benefit of his values.
"John Cena has a great talent for connecting with and encouraging kids and adults alike," says Loehr. "These collections are a new way for him to encourage readers of all ages to celebrate their achievements and take time to become the best version of themselves—whatever that might be.
Loehr acquired world rights from Jennifer Joel at ICM Partners, and Sara Sargent, Senior Executive Editor at Random House Books for Young Readers, will edit the children's book. North American rights for the adult edition were acquired by Executive Editor Sara Weiss from Jennifer Joel at ICM.
DO YOUR BEST EVERY DAY TO DO YOUR BEST EVERY DAY and BE A WORK IN PROGRESS will be published simultaneously in audio by Penguin Random House Audio.
John Cena is a #1 New York Times bestselling author, multifaceted entertainer, and dedicated philanthropist. A longtime WWE superstar, his films include Ferdinand (2017); F9, the next installment of the Fast and the Furious series (2021); The Suicide Squad (2021); and its spinoff TV show, Peacemaker (2021). Inspired by Richard Scarry—one of his favorite children's book creators—John is the author of the Elbow Grease series of picture books. Follow @JohnCena on Twitter, Instagram, or Facebook.
Posted: January 4, 2021