John Green's First Work of Nonfiction to be Published by Dutton in May 2021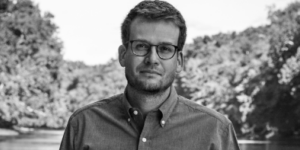 Dutton will publish a collection of essays by #1 internationally bestselling author John Green, whose books have been translated into 55 languages with more than 50 million copies in print worldwide. Scheduled for publication on May 18, 2021, THE ANTHROPOCENE REVIEWED is adapted and expanded from the podcast Green writes and hosts in partnership with WNYC Studios, and will include new pieces exclusive to the book. It is novelist Green's first work of nonfiction.
The Anthropocene is the current geological age, in which human activity has profoundly shaped the planet and its biodiversity. In THE ANTHROPOCENE REVIEWED, John Green reviews different facets of the human-centered planet on a five-star scale—from the QWERTY keyboard and Staphylococcus aureus to the Taco Bell breakfast menu.
Complex and rich with detail, the Anthropocene's reviews have been praised as "observations that double as exercises in memoiristic empathy."* John Green's gift for storytelling shines throughout this artfully curated collection that will include both beloved selections and all-new essays.
"Before I was a novelist, before I was a YouTuber, I was a book reviewer. The format still fascinates me," says John Green. "As I've been revising and expanding the essays for THE ANTHROPOCENE REVIEWED, I've begun to understand these reviews as an attempt to chart the contradictions of human life as I experience it—how we can be so compassionate and so cruel, so persistent and so quick to despair, and how consciousness is at once depraved in its meaninglessness and profoundly sacred in its meaning."
Julie Strauss-Gabel, President and Publisher of Dutton Books for Young Readers, and Green's longtime editor, will partner with Dutton on the publication. She said, "It is a gift to bring these remarkable essays to the page. I hear John in every word. Inexhaustible curiosity and a profound sense of empathy have always informed and enriched his novels because they are so true to John as a person. THE ANTHROPOCENE REVIEWED is both the perfect complement to his fiction and a thrilling new adventure."
The Anthropocene Reviewed podcast is a co-production of Complexly and WNYC Studios. A recent episode includes additional information announcing the book, and can be streamed here.
THE ANTHROPOCENE REVIEWED is John Green's first new publication since Turtles All the Way Down in 2017. An instant #1 international bestseller, Turtles All the Way Down was praised as "wrenching and revelatory" by the New York Times and was included in 'best of' lists from NPR, The New York Times, TIME, the Wall Street Journal, Entertainment Weekly, and many more outlets. He is also the author of The Fault in Our Stars, which has sold more than 24 million copies worldwide and was named TIME magazine's #1 Fiction Book of 2012. John Green was selected by TIME magazine as one of the 100 Most Influential People in the World and Entertainment Weekly named him as one of their Entertainers of the Year.
Author photo credit: Marina Waters
Posted: August 29, 2020