John Grisham Launches CAMINO WINDS with Wednesday Stephen King Online Conversation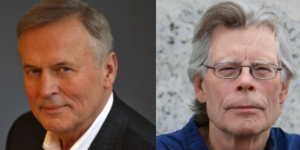 John Grisham is treating his millions of readers to a welcome literary escape with the publication of his 34th novel, CAMINO WINDS, today, Tuesday, April 28, in hardcover and eBook by Doubleday, and as a Random House Audio. The Washington Post writes, "Grisham's amiable beach book is a follow-up to CAMINO ISLAND… [it]reads is as if the Hardy Boys were in their late 40s and had developed a taste for shrimp tacos and exquisite wines."
To celebrate its publication, Grisham will join Stephen King, whose new collection of novellas, If It Bleeds, was published last week, for a special "one night only" online conversation tomorrow night, Wednesday, April 29, at 7:00pm (ET), airing free on King's YouTube channel. Advance registration is also available at grishamking.eventbrite.com and questions for them can be submitted by using the hashtag #AskKingandGrisham.
In lieu of an admission charge, Grisham and King request attendees to consider donating here to Binc (Bookseller Industry Charitable Foundation).
King began his prolific career as the author of CARRIE, with Doubleday. Several of his celebrated early titles, including THE STAND, SALEM'S LOT, and THE SHINING, are published by Vintage Anchor, Vintage Español, and Random House Audio. The more than 30 books that comprise Grisham's backlist are published by Dell, Bantam, Vintage Español, and Random House Audio.
Posted: April 28, 2020