John Hodgman in Conversation with Aimee Mann via Zoom (10/16)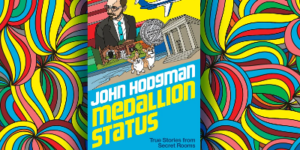 To celebrate the Penguin paperback edition of MEDALLION STATUS, John Hodgman will be in conversation with singer-songwriter Aimee Mann at a virtual event presented by Brookline Booksmith via Zoom on Friday, October 16 at 7:00 pm (ET).
A hilarious and honest new book in which Hodgman, New York Times bestselling author of Vacationland, leaves vacation behind and gets back to work as a still somewhat famous person . . . and then loses his job. Both unflinchingly funny and deeply heartfelt, MEDALLION STATUS is a thoughtful examination of status, fame, and identity–and about the way we all deal with those moments when we realize we aren't platinum status anymore and will have to get comfortable in that middle seat again.
Hodgman is a writer, comedian, and actor. He is the author of The Areas of My Expertise, More Information Than You Require, That Is All, and Vacationland. He is the host of the popular Judge John Hodgman podcast and also contributes a weekly column under the same name for The New York Times Magazine.
!! As a reminder, if you are posting to a personal or other non-PRH account you must include the hashtag #TeamPRH !!
Posted: October 14, 2020