---
John Kenney to Discuss LOVE POEMS FOR ANXIOUS PEOPLE with His Editor Sally Kim via Instagram (4/23)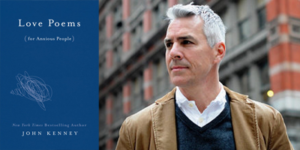 John Kenney will discuss his latest book, LOVE POEMS FOR ANXIOUS PEOPLE (Putnam), with his editor, Sally Kim, as the debut virtual event for Penguin Presents, a new web series, via Instagram Live on Thursday, April 23, at 7:00pm (ET).
With the same brilliant wit and hilarious realism that made Love Poems for Married People and Love Poems for People with Children such hits, John Kenney is back with a brand new collection of poems, this time taking on one of the most common feelings in our day-and-age: anxiety. Kenney covers it all, from awkward social interactions and insomnia to nervous ticks and writing and rewriting that email.
Kenney is the New York Times bestselling author of the humorous poetry collections Love Poems for Married People, Love Poems for People with Children, and Love Poems for Anxious People, and the novels Talk to Me and Truth in Advertising, which won the Thurber Prize for American Humor. He has worked for many years as a copywriter. He has also been a contributor to The New Yorker since 1999. He lives in Brooklyn, New York.
!!A reminder for PRH employees: If you are posting this article to a personal or other non-PRH account you must include the hashtag #TeamPRH.!!
Posted: April 22, 2020