John McCain: 1936 – 2018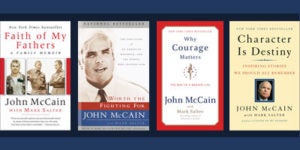 People around the world are mourning the passing of Senator John McCain, who died Saturday, August 25, at the age of 81. War hero, military and political maverick, two-time presidential contender, and devoted father, McCain was also the bestselling author of seven greatly admired books, the first four of which were published by Random House: FAITH OF MY FATHERS: A Family Memoir (1999), WORTH THE FIGHTING FOR: The Education of an American Maverick, and the Heroes Who Inspired Him (2003), WHY COURAGE MATTERS: The Way to a Braver Life (2004), and CHARACTER IS DESTINY: Inspiring Stories We Should All Remember (2005). The co-author of all of McCain's books was Mark Salter, who also served as the Senator's speech writer and staff aide.
The outpouring of many personal tributes to and remembrances of McCain, from world leaders to longtime colleagues to family members, included one from Salter, published Saturday evening by The Washington Post. Here is an excerpt:
"McCain was a romantic about his causes and a cynic about the world. He had the capacity to be both things and to live with the contradiction. He had seen human beings at their best and worst — often in the same experience. He understood the world as it is with all its corruption and cruelty. But he thought it a moral failure to accept injustice as the inescapable tragedy of our fallen nature …
"He was restless and enthusiastic, quick and quick-tempered. He could be impetuous and cantankerous. He was defiant in defeat, and sometimes in victory, too. He didn't have sides, his mother said, meaning different faces for different occasions. He was all he was, all of the time …
"He died knowing that a life spent serving the dignity of his fellow man brought the most satisfaction and with it a little hope for God's mercy."
Our condolences to John McCain's family, friends and colleagues,
To read the full text of Salter's tribute to McCain, click here.
To read the New York Times John McCain obituary, click here
Posted: August 27, 2018