John Sandford Discusses MASKED PREY on Facebook Live (4/14)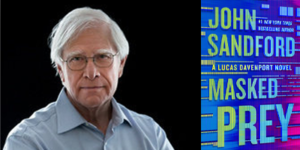 #1 New York Times bestselling author John Sandford, whose latest Lucas Davenport novel is MASKED PREY (Putnam), will participate in a Virtual Livestream Event, in conversation with Barbara Peters, owner of Poisened Pen bookstore, on Facebook Live, Tuesday, April 14 at 6:00pm (PT) / 9:00pm (ET).
In MASKED PREY, Davenport investigates a vitriolic blog that seems to be targeting the children of U.S. politicians. The daughter of a U.S. Senator is monitoring her social media presence when she finds a picture of herself on a strange blog. And there are other pictures . . . of the children of other influential Washington politicians, walking or standing outside their schools, each identified by name. Surrounding the photos are texts of vicious political rants from a motley variety of radical groups. With nowhere else to turn, influential Senators decide to call in someone who can operate outside the FBI's constraints: Lucas Davenport.
John Sandford is the pseudonym for the Pulitzer Prize-winning journalist John Camp. He is the author of the Prey novels, the Kidd novels, the Virgil Flowers novels, and six other books, including three YA novels co-authored with his wife Michele Cook.
!!A reminder for PRH employees: If you are posting this article to a personal or other non-PRH account you must include the hashtag #TeamPRH.!!
Posted: April 13, 2020