Johns Hopkins to Name Building for Henrietta Lacks, Subject of Rebecca Skloot's #1 NYT Bestseller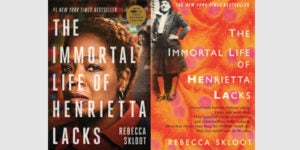 Johns Hopkins University is naming a new building after Henrietta Lacks, a Baltimore woman whose cells were the basis of research for numerous modern medical breakthroughs. The building is planned for Hopkins' East Baltimore campus and expected to be completed in 2022.
Henrietta Lacks's cells, dubbed "HeLa" cells, were significant for their ability to survive outside the body and became the basis for research that led to techniques related to vaccines, cancer treatments and in vitro fertilization. They have become the most widely used human cells that exist today in scientific research.
In her Crown/Broadway book, THE IMMORTAL LIFE OF HENRIETTA LACKS, author Rebecca Skloot takes readers on an extraordinary journey, from the "colored" ward of Johns Hopkins Hospital in the 1950s to stark white laboratories with freezers full of HeLa cells; from Henrietta's small, dying hometown of Clover, Virginia—a land of wooden slave quarters, faith healings, and voodoo—to East Baltimore today, where her children and grandchildren live and struggle with the legacy of her cells. Skloot's book became a #1 New York Times bestseller and spawned an HBO movie with the title, produced by and starring Oprah Winfrey.
"[The building] will be a place that stands as an enduring and powerful testament to a woman who not only was the beloved mother, grandmother, great-grandmother to generations of the Lacks family, but the genesis of generations of miraculous discoveries that have changed the landscape of modern medicine and that have benefited in truth the much larger family of humanity entirely," said Ronald Daniels, President of Johns Hopkins.
Posted: October 15, 2018