Join a Virtual Launch Party for Elizabeth Lim's UNRAVEL THE DUSK via Instagram (7/7)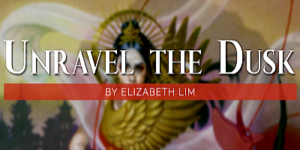 Knopf Books for Young Readers author Elizabeth Lim is celebrating the publication of her new book, UNRAVEL THE DUSK, with a virtual Launch Party hosted by Books of Wonder via Instagram on Tuesday, July 7 at 4:00 pm (ET). To register, click here.
Maia Tamarin proved her skill as a tailor when she wove the dresses of the sun, the moon, and the stars, but it will take more than a beautiful gown to hide the darkness rising up within her. . . . The stakes are higher than ever in UNRAVEL THE DUSK, the harrowing sequel to Lim's Spin the Dawn.
Ms. Lim grew up in the San Francisco Bay Area, where she was raised on a hearty diet of fairy tales, myths, and songs. Before becoming an author, Elizabeth was a professional film and video game composer, and she still tends to come up with her best book ideas when writing near a piano. An alumna of Harvard College and the Juilliard School, she now lives in New York City with her husband and her daughter.
Spin the Dawn (book 1 in the Blood of Stars duology) was her first original novel, and Unravel the Dusk is her second. She is also a contributor to the New York Times bestselling "A Twisted Tale…" series.
!! As a reminder, if you are posting to a personal or other non-PRH account you must include the hashtag #TeamPRH !!
Posted: July 5, 2020