Join Authors Grady Hendrix and Chuck Wendig for Virtual "Libraries Night Out"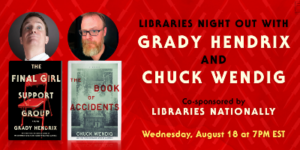 You're invited to Libraries Night Out, a virtual event featuring Berkley author Grady Hendrix and Del Rey author Chuck Wendig as they discuss their new novels, THE FINAL GIRL SUPPORT GROUP and THE BOOK OF ACCIDENTS, on Wednesday, August 18 at 7:00 pm (ET). To register, click here.
Moderated by Tricia Narwani, VP & Editor-in-Chief, Del Rey, this event is made possible with the support of Penguin Random House Library Marketing and Libraries Nationally. A special thank you to all of our library co-sponsors: Saline County Library's Adultish Book Club (Benton, AR); Stockton-San Joaquin County Public Library's A Book with a View (Stockton, CA); Delaware County District Library (Delaware, OH); Centre County Library and Historical Museum (Bellefonte, PA); East Baton Rough Parish Library's Mystery Lovers Book Club (Baton Rouge, LA); Radford Public Library's It's a Mystery (Radford, VA); Bullitt County Public Library's 4th Monday Book Club (Mt. Washington, KY); Technical College of the Low Country's Last Book Club on the Left (Beaufort, SC); Santa Cruz Public Libraries' Pleasure Point Murder Club (Santa Cruz, CA); Westfield Athenaeum's The Club (Westfield, MA); Johnson County Library's JCL Online Book Group (Overland Park, KS); Robinson Township Library's Mystery Book Discussion (Pittsburgh, PA); and Kenosha Public Library's Mystery Lovers Book Club (Kenosha, WI).
In horror movies, the final girls are the ones left standing when the credits roll. They made it through the worst night of their lives…but what happens after? Grady Hendrix's latest THE FINAL GIRL SUPPORT GROUP is a fast-paced, frightening, and wickedly humorous thriller. From chain saws to summer camp slayers, this novel pays tribute to and slyly subverts our most popular horror films—movies like The Texas Chainsaw Massacre, A Nightmare on Elm Street, and Scream.
Grady Hendrix is an award-winning novelist and screenwriter living in New York City. He is also the author of Horrorstör, My Best Friend's Exorcism (which is being adapted into a feature film by Amazon Studios), We Sold Our Souls, and the New York Times bestseller The Southern Book Club's Guide to Slaying Vampires (currently being adapted into a TV series). Grady also authored the Bram Stoker Award-winning nonfiction book, Paperbacks from Hell, a history of the horror paperback boom of the '70s and '80s.
In Chuck Wendig's THE BOOK OF ACCIDENTS, a family returns to their hometown—and to the dark past that haunts them still—in this riveting literary horror tale. Dark magic puts Nate and Maddie Graves, and their son Oliver, at the heart of a battle of good versus evil and a fight for the soul of the family—and perhaps for all of the world. But the Graves family has a secret weapon in this battle: their love for one another.
Chuck Wendig is also the New York Times bestselling author of Wanderers, Star Wars: Aftermath, the Miriam Black thrillers, the Atlanta Burns books, and Zer0es and Invasive, alongside other works across comics, games, film, and more. He was a finalist for the Astounding Award for Best New Writer and is an alum of the Sundance Screenwriters Lab, and he served as the co-writer of the Emmy-nominated digital narrative Collapsus. He is also known for his popular blog, terribleminds, and books about writing such as Damn Fine Story. He lives in Pennsylvania with his family.
Posted: August 17, 2021