Join Berkley Author Alexa Martin for the Virtual Launch of MOM JEANS AND OTHER MISTAKES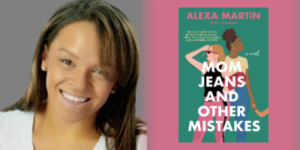 Alexa Martin, author of MOM JEANS AND OTHER MISTAKES (Berkley), launches her newly published novel in conversation with Saumya Dave at a virtual event hosted by The Lit. Bar via Zoom tonight, Tuesday, September 7 at 7:00 pm (ET). To register, click here.
In MOM JEANS AND OTHER MISTAKES, Jude and Lauren don't have much in common, but maybe that's why they've been best friends since the third grade. Through ups and downs, they've been by each other's sides. But now? They're broke, single, and do the only thing that makes sense—move in together, just like they talked about when they were teenagers. Except when they were younger, the plan didn't include a five-year-old daughter and more baggage than their new townhouse can hold.
Alexa Martin is a writer and stay-at-home mom. A Nashville transplant, she's intent on instilling a deep love and respect for the great Dolly Parton in her four children and husband. The Playbook Series, including Snapped, Blitzed, Fumbled and Intercepted, was inspired by the eight years she spent as an NFL wife and her deep love of all things pop culture, sparkles, leggings, and wine.
Posted: September 7, 2021