Join Betsy Bird for Her LONG ROAD TO THE CIRCUS Virtual Book Release Party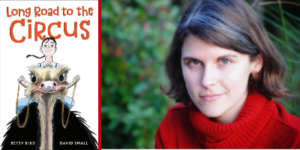 Alerting colleagues with children: Betsy Bird, author of LONG ROAD TO THE CIRCUS (Knopf Books for Young Readers), will celebrate the publication of her new middle-grade title at a virtual book release party hosted by The Book Stall via Crowdcast tonight, Tuesday, October 5 at 7:30 pm (ET).
This event is aimed at kids ages 10 and up, and adults who love ostriches, kid lit, and history!
To register, click here.
Illustrated by Cadecott medalist David Small, LONG ROAD TO THE CIRCUS tells the story of twelve-year-old Suzy Bowles, who longs for a life outside her small Michigan town, Burr Oak. Enter Madame Marantette and her ostriches. A legendary former circus queen and her huge birds could be the unusual ride to a different life. Before long, Suzy finds herself caught-up in the fast-paced, hilarious world of ostrich riding, a rollicking adventure that just might be her ticket out of Burr Oak.
Betsy Bird is the Collection Development Manager of the Evanston Public Library, and the former Youth Materials Specialist of the New York Public Library. Betsy reviews for Kirkus, served on the 2007 Newbery Award committee, and her children's literature blog, "A Fuse #8 Production," is hosted by School Library Journal. Betsy is also the author of the picture book, Giant Dance Party, and a co-author on the nonfiction book, Wild Things: Acts of Mischief in Children's Literature, which she wrote with fellow bloggers Julie Danielson and Peter Sieruta.
!! A reminder: you can share this feature. If you are posting to a personal or other non-PRH account you must include the hashtag #TeamPRH !!
Posted: October 5, 2021