Join Bianca Marais for a Virtual Literary Wine Down via Instagram Live (8/19)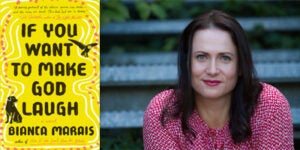 Join Bianca Marais, author of IF YOU WANT TO MAKE GOD LAUGH (Putnam) and Jamise Harper a virtual Literary Wine Down hosted by Spines & Vines via Instagram Live on Wednesday, August 19 at 7:00 pm (ET). 
Rich, unforgettable story of three unique women in post-Apartheid South Africa who are brought together in their darkest time and discover the ways that love can transcend the strictest of boundaries.
In a squatter camp on the outskirts of Johannesburg, seventeen-year-old Zodwa lives in desperate poverty, under the shadowy threat of a civil war and a growing AIDS epidemic. Eight months pregnant, Zodwa carefully guards secrets that jeopardize her life.
Across the country, wealthy socialite Ruth appears to have everything her heart desires, but it's what she can't have that leads to her breakdown. Meanwhile, in Zaire, a disgraced former nun, Delilah, grapples with a past that refuses to stay buried. When these personal crises send both middle-aged women back to their rural hometown to heal, the discovery of an abandoned newborn baby upends everything, challenging their lifelong beliefs about race, motherhood, and the power of the past.
As the mystery surrounding the infant grows, the complicated lives of Zodwa, Ruth, and Delilah become inextricably linked. What follows is a mesmerizing look at family and identity that asks: How far will the human heart go to protect itself and the ones it loves?
Marais is the author of Hum If You Don't Know the Words. She holds a certificate in creative writing from the University of Toronto's School of Continuing Studies, where she now teaches creative writing. Before turning to writing, she started a corporate training company and volunteered with Cotlands, where she assisted care workers in Soweto with providing aid for HIV/AIDS orphans. Originally from South Africa, she now resides in Toronto with her husband.
!! As a reminder, if you are posting to a personal or other non-PRH account you must include the hashtag #TeamPRH !! 
Posted: August 17, 2020