Join Julia Alvarez in a Latinx Heritage Month Presentation from Literacy Partners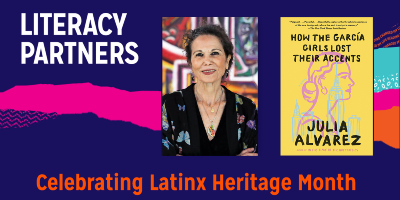 Join PRH long-time partner, Literacy Partners, in honoring the rich and enduring stories of the Latinx community with a special tribute to Julia Alvarez and her acclaimed novel, HOW THE GARCIA GIRLS LOST THEIR ACCENTS, published by Penguin Classics.
Literacy Partners is excited to share with you an inspiring conversation with the author, followed by an online marathon reading (3 nights|15 readers) of the novel featuring a dynamic group of storytellers who have an important relationship with Alvarez and her work.
October 13, 2022
See Julia Alvarez share the virtual stage with editor and journalist Concepción de León, Senior Editor at Pantheon in a special discussion about family, language, and identity at 8pm ET.
October 18 – 20, 2022
Sit back and listen to Julia Alvarez's novel, HOW THE GARCIA GIRLS LOST THEIR ACCENT, read by an amazing cast of powerful women that include Edwidge Danticat, Sandra Cisneros, Maria Hinojosa, Esmeralda Santiago, Angie Cruz, Marie Arana, María Amparo Escandón, Gabriela Garcia, Sonia Manzano, Cleyvis Natera, Ingrid Rojas Contreras, Nelly Rosario, Yamile Saied Méndez, Reyna Grande, and Helena Maria Viramontes, with introductions by Stephanie Ramos,.
Tickets for the event are free of charge, though donations are welcome.
Click here to get your ticket.
This event is part of the Literacy Partners "Writers for Readers" series, in which they elevate classic literary works by authors of color and hold space for discussion of important questions about identity, privilege, empowerment, and justice.
Posted: October 11, 2022