Join Knopf Author Martin Walker for a Virtual Journey Through Stories of Bruno and France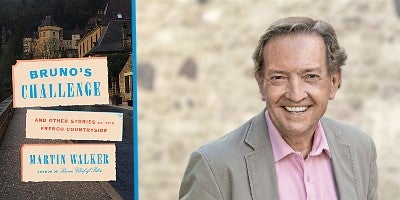 Martin Walker, the author of the internationally acclaimed Bruno, Chief of Police series, will be discussing his new collection, BRUNO'S CHALLENGE: And Other Stories of the French Countryside (Knopf), at a virtual event hosted by The Poisoned Pen Bookstore via YouTube Live on Tuesday, March 15 at 3:00 pm (ET).
To attend this event, click here.
BRUNO'S CHALLENGE features all of the dear characters from the Bruno novels and the delights from the Périgord region of France. In this installment, Bruno has his work cut out for him –– he has to track down a prisoner after he breaks parole to visit his son on Christmas, investigate the sabotage of a tour bus, mediate situations between jealous café owners, and he even welcomes an old flame back. In story after story, Bruno continues to settle town disputes in his adored village of St. Denis and its surrounding areas.
Martin Walker is a Senior Director of the Global Business Policy Council, a private think-tank for CEOs of major corporations, which is based in Washington, DC. He has had a long career working in international journalism and has written for The New York Times, The Washington Post, Foreign Policy, and many other outlets. Currently, Walker prefers to garden, cook, explore vineyards, travel, and write. He and his wife have two daughters and a basset hound; they divide their time between Washington, DC, and the Périgord region of France.
!! A reminder: You can share this feature. If you are posting to a personal or other non-PRH account you must include the hashtag #TeamPRH !!
Posted: March 14, 2022