Join Nancy Thorndike Greenspan for an Interactive Conversation About ATOMIC SPY via Zoom (8/12)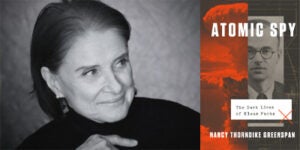 Be a part of an interactive conversation with author Nancy Thorndike Greenspan, discussing her latest book, ATOMIC SPY: The Dark Lives of Klaus Fuchs (Viking), during a live virtual event hosted by Delaware Libraries via Zoom on Wednesday, August 12, at 5:00 pm (ET). 
This gripping biography of a notorious Cold War villain–the German-born British scientist who handed the Soviets top-secret American plans for the plutonium bomb–shows a man torn between conventional loyalties and a sense of obligation to a greater good.
With thrilling detail from never-before-seen sources, Nancy Thorndike Greenspan takes readers inside the Germany of an ascendant Nazi party; the British university classroom of Max Born; a British internment camp in Canada; the secret laboratories of Los Alamos; and Eastern Germany at the height of the Cold War. Atomic Spy shows the real Klaus Fuchs–who he was, what he did, why he did it, and how he was caught. His extraordinary life is a cautionary tale about the ambiguity of morality and loyalty, as pertinent today as in the 1940s.
!! As a reminder, if you are posting to a personal or other non-PRH account you must include the hashtag #TeamPRH !! 
Posted: August 11, 2020