Join Penguin Life Author Vanessa Chakour on a Virtual Plant Walk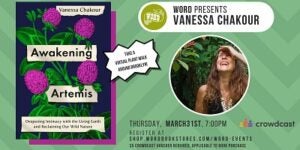 Join Vanessa Chakour, author of AWAKENING ARTEMIS: Deepening Intimacy With the Living Earth and Reclaiming Our Wild Nature (Penguin Life), for a Virtual Plant Walk, sponsored by WORD Bookstore (Brooklyn), via Crowdcast on Thursday, March 31 at 7:00 pm (ET). The event requires a $5 Crowdcast voucher that can be applied to a book purchase.
To register, click here.
AWAKENING ARTEMIS is a combination of Vanessa's healing journey and her practical plant-based knowledge that is rooted in the belief that healing happens through reclaiming an intuitive connection to ourselves, to the natural world, and our own "inner wild."
In the aftermath of experiencing a series of physical traumas growing up, Vanessa pursued multiple approaches to therapeutic movements and explored traditions that honor a mind-body connection while forging a path to recovery. Twenty years into her journey to reconcile her daily routines with her yearning for greater purpose and connection, Vanessa shares the eclectic mix of elements that have brought her deeper self-awareness, a richer understanding of her place in the world, and the confidence and clear boundaries to truly connect with her loved ones.
Vanessa Chakour is a visual artist, herbalist, holistic arts educator, former pro-boxer, environmental activist, writer, and the founder of Sacred Warrior, an organization with the mission to deepen relationships between ourselves and the environment by offering plant medicine, wildlife conservation, and meditation through courses, workshops, and retreats with a diverse group of teachers. A fierce defender and advocate of the land, Vanessa embodies the practices she teaches by inspiring personal relationships with the plants and animals around us and curating embodied experiences in her workshops, herbal apprenticeships, and rewilding retreats. She currently lives in Western Massachusetts and teaches around the world.
!! A reminder: You can share this feature. If you are posting to a personal or other non-PRH account you must include the hashtag #TeamPRH !!
Posted: March 30, 2022