Join Razorbill Author Jessica Goodman for the Virtual Launch of Her New YA Thriller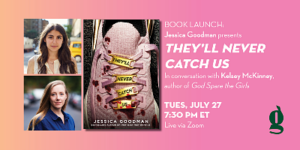 Jessica Goodman, author of THEY'LL NEVER CATCH US (Razorbill), is launching her new YA novel in conversation with writer and reporter Kelsey McKinney at a virtual event hosted by Greenlight Bookstore (Brooklyn, NY) via Zoom on Tuesday, July 27 at 7:30 pm (ET). To register, click here.
Following her widely praised debut novel, THEY WISH THEY WERE US, Ms. Goodman delivers a new fast-paced thriller about two sisters vying for the top spot on their cross-country team—until a teammate's disappearance throws their lives off course.
Stella and Ellie Steckler are only a year apart, but their different personalities make their relationship complicated. The sisters do have one thing in common, though: the new girl, Mila Keene. Both Stecklers' lives are upended when Mila comes to town. At first, Ellie and Stella view the new star athlete as a threat. But soon Ellie can't help but be drawn to her warm, charming personality. After her best friend moved away and her first boyfriend betrayed her, Ellie's been looking for a friend to share her secrets. Stella finds herself noticing the ways she and Mila are similar As the two get closer, Stella becomes something she vowed she'd never be: distracted. But then, suddenly, Mila goes out on a training run and never returns. No one knows what happened, but all eyes are on the Steckler sisters.
Ms. Goodman is the former op-ed editor at Cosmopolitan magazine and was part of the 2017 team that won a National Magazine Award in personal service. She has also held editorial positions at Entertainment Weekly and HuffPost.
Ms. McKinney is a reporter and writer who lives in Washington, D.C. She is a co-owner and features writer at Defector.com. In her freelance work, Kelsey writes about everything from Tom DeLonge's alien obsession to Christian megachurches and bull riding. She is the author of God Spare the Girls, which is her debut novel.
!! As a reminder, if you are posting to a personal or other non-PRH account you must include the hashtag #TeamPRH !!
Posted: July 26, 2021