Join Simon Sinek's "Book Club with Simon: Part 5" on YouTube Live (5/1)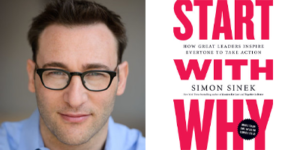 Simon Sinek, author of START WITH WHY: How Great Leaders Inspire Everyone to Take Action (Portfolio), presents "Book Club with Simon: Part 5."  Sinek's book club is reading START WITH WHY and discussing over the course of 6 weekly sessions on YouTube Live, continuing on Friday, May 1 at 3:00pm (ET).   
START WITH WHY shows that the leaders who've had the greatest influence in the world all think, act, and communicate the same way — and it's the opposite of what everyone else does. Sinek calls this powerful idea The Golden Circle, and it provides a framework upon which organizations can be built, movements can be led, and people can be inspired. And it all starts with WHY.
Simon Sinek is an optimist and the bestselling author of Start With Why, Leaders Eat Last, Together Is Better, and Find Your Why. He is working to build a world in which the vast majority of us will wake up inspired, feel safe at work, and return home fulfilled at the end of the day. His TED talk, "How Great Leaders Inspire Action," is one of the most widely viewed of all time.
!! As a reminder, if you are a PRH employee posting to a personal or other non-PRH account, you must include the hashtag #TeamPRH !!  
Posted: April 30, 2020