Join the #ChooseKindValentine Kindness Chain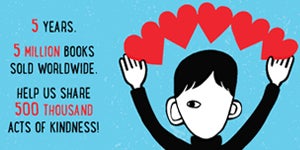 In honor of the fifth anniversary of R. J. Palacio's WONDER, Random House Children's Books, together with our author, launched #ChooseKindValentine, a campaign that encourages everyone on Facebook, Instagram, and Twitter to contribute to a Kindness Chain by posting an act of kindness with a tag to someone else.
With over five million copies sold around the world, Palacio's WONDER, with its message to Choose Kind, has inspired global kindness and anti-bullying campaigns and has become part curricula in schools across the country. WONDER has demonstrated the power of a book to spark a cultural dialogue, and to inspire children and adults to think differently about the world around them.
Random House Children's Books encourages everyone at Penguin Random House to take part in this initiative by spreading kindness around your own community beginning this Valentine's Day. It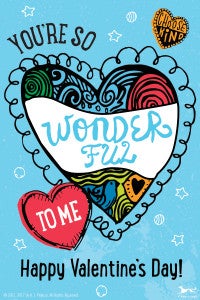 can be as simple as:
Write a friend or family member a nice note to tell them something you love about them.
Treat a stranger in the coffee line to a free beverage.
Shovel a neighbor's snow, clear their car, or leave a basket of treats at their door.
Leave a nice note or gift for your mail carrier as a token of gratitude.
Then post your act of kindness on social media with #ChooseKindValentine. Tag someone, and continue the kindness chain.
Happy Valentine's Day!
Yours in Wonder,
Random House Children's Books
Posted: February 7, 2017