Join the RHBC Happy Hour to Discuss CONJURE WOMEN with Afia Atakora via Zoom (6/30)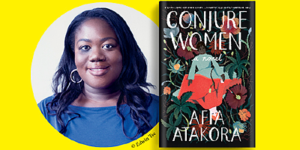 The Random House Book Club will discuss its June Spotlight pick – Afia Atakora's CONJURE WOMEN (Random House) – via a Zoom Happy Hour, with a special guest appearance by the author, on Tuesday, June 30 at 7:30 pm (ET). To register, click here.
Though her extensive research from primary sources, including first person accounts, diaries, autobiographies recounted through amanuenses, and discussions with midwives and doctors, Atakora imbues her novel with historical truths—and the results are powerful. CONJURE WOMEN centers on a mother and daughter with a shared talent for healing—and for the conjuring of curses. It will have you thinking about secrets, the bonds between family and friends, and the power of superstition.
Atakora has been a finalist for the Hurston/Wright Award for College Writers as well as a nominee for a Pushcart Prize. A graduate of NYU's Tisch School of the Arts, she also has an MFA from Columbia University where she was a recipient of the De Alba Fellowship.
!! As a reminder, if you are a PRH employee posting to a personal or other non-PRH account, you must include the hashtag #TeamPRH !! 
Posted: June 25, 2020