Join Today's PRH Library Marketing and BPL Librarians Special Book Buzz Event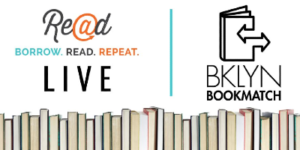 The Penguin Random House Library Marketing team and the Brooklyn Public Library librarians are teaming up for a special Book Buzz event "Brooklyn BookMatch & Borrow. Read, Repeat. Go Live" today at 1:00pm (ET).
You will hear from Brooklyn librarians, and the PRH Library Marketing staff as they discuss the perfect books for summer, upcoming titles, and what's happening at the Brooklyn Public Library.
This special event grew out of the PRH Library Marketing Morning Book Buzz, a weekly live video book talk to librarians that typically takes place every Wednesday at 11:00 am Since their program began in April, the PRH Library Marketing team regularly draws a 700+ librarian audience, and chats about the books they've been reading, what's coming soon, and the digital resources available to help librarians and patrons. They have recently branched out with patron-focused Book Buzzes under their Borrow.Read.Repeat platform as well.
There is limited space available. To join this special Book Buzz event, click here .
You can also view and share all archived episodes on their YouTube channel. ( https://www.youtube.com/playlist?list=PLgtorOQ4j79YkXo67y28ejmCX0bRhJ8v6)
Posted: June 16, 2020