Join Tonight's Authors Guild Gala Honoring One World, Chris Jackson, and Ibram X. Kendi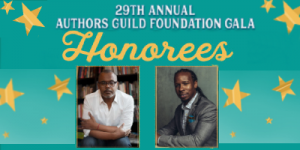 The Authors Guild, the nation's oldest and largest professional organization of writers and a longtime Penguin Random House partner, are holding their 29th annual gala tonight, Tuesday, May 18, from 7:00 to 8:00 pm (ET). This virtual gala, themed "Books Inspire Change," is free and open to the public. The Authors Guild will present the 2021 award for "Literature That Inspires Change" to One World Publisher & Editor-in-Chief Chris Jackson and One World in the publisher category, with the author award going to Dr. Ibram X. Kendi. Mr. Jackson and Dr. Kendi will be in conversation at the event.
Special guests also appearing include Isabel Allende, David Baldacci, Rita Dove, Isaac Fitzgerald, John Grisham, Paula Hawkins, Gish Jen, Morgan Jerkins, Christina Baker Kline, Janet Mock, Viet Thanh Nguyen, Jason Reynolds, Margot Lee Shetterly, Gloria Steinem, Jia Tolentino, Alice Wong, and Kao Kalia Yang.
Tickets are free. RSVP here to secure your spot.
The Gala is the Authors Guild Foundation's main fundraising event, and it provides crucial funding for their work supporting American literary culture, authors' rights, freedom of expression, copyright protection, and educational programs that empower literary voices from disadvantaged and overlooked communities.
Of special note: the Authors Guild Foundation and Penguin Random House partnered to produce a series of Writing Business Bootcamps across the country, available at no charge to participants due in part to an award from the National Endowment of the Arts. From the end of 2018 through spring 2019, six bootcamps were held in underserved communities nationwide. In addition to Authors Guild and Penguin Random House representatives, local published authors led each session, bringing a variety of experience and knowledge. Following the success of the inaugural Writing Business Bootcamp in Philadelphia in 2018, the Authors Guild Foundation and Penguin Random House continued their partnership, bringing the bootcamp series to underserved communities across the country in 2019.
Posted: May 18, 2021