Join Underlined for a Virtual Slumber Party Featuring RHCB Authors Gina Chen, Katharine McGee, Kelis Rowe, Kate M. Williams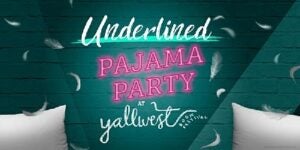 Gina Chen (Violet Made of Thorns), Katharine McGee (American Royals III: Rivals), Kelis Rowe (Finding Jupiter), and Kate M. Williams (Never Coming Home) will host a virtual slumber party presented by Underlined at YALLWest Book Festival on Wednesday, April 27 at 8:00 PM (ET) via Zoom.
The evening will feature games, Q&As, writing advice, and free books! All attendees will receive an early digital copy of a select upcoming title after the event. Everyone who attends can also enter a giveaway featuring ten of our upcoming titles, including titles by our featured authors.
Gina Chen is a self-taught artist with a degree in Computer Science with a particular fondness for fairy and demon tales, romantic comedies, and quiz shows. She currently lives in Southern California. VIOLET MADE OF THORNS is her debut novel.
Katharine McGee is the New York Times bestselling author of the AMERICAN ROYALS series. She studied English and French literature at Princeton University and has an MBA from Stanford. Katharine currently lives in her hometown of Houston, Texas with her husband and son.
Kelis Rowe grew up in Memphis, Tennessee, where she had her first big love as a teenager. At the time, she did not see herself or her big love reflected in YA novels and was inspired to give young Black people more reflections of themselves and their love for the world of YA readers to enjoy. Kelis currently lives in Austin, Texas with her husband and son. FINDING JUPITER is her debut novel.
Kate Williams loves to write about witches, teenagers, girls behaving badly, palm trees, and other forms of magic. She has written for Seventeen, NYLON, Cosmopolitan, Bustle, Vans, Calvin Klein, Urban Outfitters, and many other brands and magazines. She is also the author of THE BABYSITTERS COVEN trilogy. Kate currently lives in Kansas.
To register for this event, click here. Let us know you're coming by tagging us @GetUnderlined with #UnderlinedPJParty.
Posted: April 25, 2022