Join Us As We Celebrate Free Speech Defenders With NCAC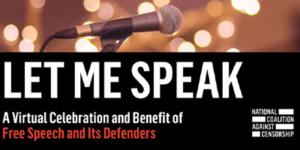 Help us honor free speech defenders at National Coalition Against Censorship's Let Me Speak Virtual Celebration and Benefit on Wednesday, November 10 at 7:00 pm – 8:00 pm (ET). This is a free event and accessible to readers everywhere, including the whole PRH community.
To reserve your spot click here!
This year, our award-winning cherished author Judy Blume will receive the Free Speech Lifetime Achievement Award. Other honorees include Larry Charles, Chris Colfer, Dr. Rhea Brown Lawson and Brenda Randolph. The event will be hosted by Randy Rainbow.
Please note donations are suggested, but not required. If you do choose to donate, remember to donate through our Matching Gifts Program, which matches up to $2,500 annually for all U.S. employees.
As an organization that shares PRH's commitment and devotion to free speech as a fundamental right, we are proud to support NCAC and hope you'll take a moment to tune in next Wednesday!
Posted: November 9, 2021