Join Us for Cooking and Conversations with Asian American Cookbook Authors!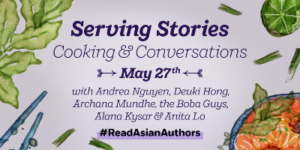 The Consumer Marketing team is excited to invite you to a virtual Zoom event, Serving Stories: Cooking and Conversations with Asian American Cookbook Authors, next Wednesday, May 27th at 8:00pm. The event, part of our #ReadAsianAuthors campaign for Asian Pacific American Heritage Month, will be moderated by Jennifer Sit, Senior Editor at Clarkson Potter, and will feature cookbook authors Boba Guys, Archana Mundhe, Alana Kysar, Anita Lo, Deuki Hong, and Andrea Nguyen! A big thank you to all those who have been helping to plan this awesome event!
We have a lot in store for the evening: the Boba Guys will be demonstrating how to make one their delicious Boba teas, Andrea Nguyen will be showing us how to make Nuoc Cham, Archana Mundhe will be demoing her Salmon Tikka Masala, and Anita Lo will be highlighting an ingredient that she's been using a lot during quarantine and the different ways to make the most out of it. There will also be a Q&A led by Jenn, where the authors will discuss their Asian American culinary identity, the evolution of diverse voices in the cookbook space, and more.
Register to attend here!
We would also love everyone's help spreading the word about the event! You can find social assets to share here or you can just share/retweet from the PRH Facebook or Twitter accounts. (If personal: #TeamPRH) If you have any questions, please reach out to Rianna Jobanputra.
Posted: May 21, 2020