Join Us This Evening for a Constellation Award Reading Event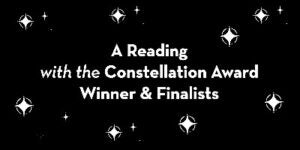 Last month, Penguin Random House and The Community of Literary Magazines and Presses (CLMP) announced the winner and finalists of the Constellation Award. Penguin Random House is the inaugural sponsor of the award for 2021 and 2022, which is given to honor an independent literary press that is led by and/or champions the writing of people of color, including Black, Indigenous, Latinx, and Asian American & Pacific Islander individuals for excellence in publishing.
CLMP is thrilled to present a reading of authors published by the winner and finalists honored by the first Constellation Award. Winner Nomadic Press and finalists BLF Press, FlowerSong Press, and La Impresora will come together tonight, Thursday, February 17, at 6 PM (ET) to share their work and celebrate independent publishers who champion the writing of people of color.
The event will feature readings by Ayodele Nzinga, Krystal A. Smith, Matt Sedillo, Salomé Marejada, and Raquel Salas Rivera.
To RSVP, please click here.
Please note that La Impresora, located in Puerto Rico, is a Spanish-language publisher whose invited reader will share poems in Spanish, followed by a reading of those poems translated into English.
Auto-captioning will be available during the event.
Posted: February 17, 2022