Jojo Moyes' THE GIVER OF STARS is Reese Witherspoon's November Book Club Pick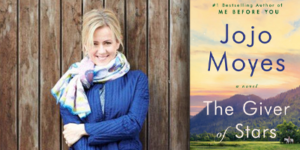 Reese Witherspoon has selected Jojo Moyes' THE GIVER OF STARS, published by Pamela Dorman Books/Viking, as her November pick for Reese's Book Club. Witherspoon offered high praise on her Hello Sunshine website:
"I can't think of a better book to read during the month of giving than The Giver of Stars by Jojo Moyes. For years I've been a huge Jojo Moyes fan. Her characters are so compelling and y'all already know how much I love historical fiction! Set in Kentucky during the 1930's, the story follows a small group of women known as the Horseback Librarians of Kentucky. It's such a great narrative about personal strength and really captures how books bring communities together, especially for these women who are completely bonded by their love of literature."
THE GIVER OF STARS is the latest New York Times bestseller from Moyes, whose previous books include such New York Times bestsellers as ME BEFORE YOU, AFTER YOU and STILL ME.
To read our Igloo interview with Pamela Dorman, Jojo Moyes' editor and publisher, click here.
Posted: November 4, 2019