Jojo Moyes to Publish New Stand-Alone Novel with Pamela Dorman Books/Viking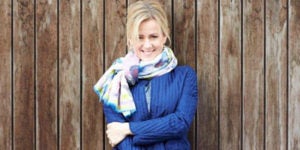 Pamela Dorman Books/Viking is pleased to announce the publication of Jojo Moyes's new stand-alone novel, THE GIVER OF STARS. Publisher Pamela Dorman acquired North American rights from Sheila Crowley at Curtis Brown, Ltd. The book will be published in the United States in hardcover, e-book, and audio formats on October 8, 2019.
Inspired by a remarkable true story that captivated the #1 New York Times bestselling author, THE GIVER OF STARS features five extraordinary women and their unforgettable journey through the mountains of Kentucky and beyond. The Horseback Librarians of Kentucky were real, but as always, Jojo has created a larger-than-life group of women facing unbelievable odds. Here, in a gripping slice of little-known Americana, she provides a rare story of heroism that is so needed in today's world.
"In THE GIVER OF STARS, Jojo Moyes has written a powerful novel of strong women set against a truly American backdrop—a little-known slice of history that has given her a canvas richer than any she has created before, and in turn, she has written the book of her life—one destined to become a classic," says Pamela Dorman, Publisher, Pamela Dorman Books
Jojo Moyes: "I can honestly say I have never loved writing a book more, or been more inspired by my subject matter. I really hope everyone else enjoys it as much as I have."
Moyes is the #1 New York Times bestselling author of Still Me, After You, Me Before You, The Peacock Emporium, The Horse Dancer, Paris for One and Other Stories, One Plus One, The Girl You Left Behind, The Last Letter from Your Lover, Silver Bay, and The Ship of Brides. Worldwide sales for the Me Before You trilogy total 21 million copies and her novels have collectively sold 38 million copies around the globe.
Posted: March 7, 2019