Jon Mooallem and Connie Schultz In Conversation via Zoom (4/29)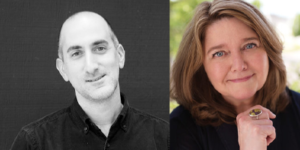 Jon Mooallem, author of THIS IS CHANCE! (Random House), will be in conversation with Connie Schultz, author THE DAUGHERS OF EIRIETOWN (Random House), in association with the National Press Club Journalism Institute and Politics & Prose via Zoom, on Wednesday, April 29, at 11:30am (ET).
THIS IS CHANCE! is the hopeful, gorgeously told story of a single catastrophic weekend and proof of our collective strength in a turbulent world. In the spring of 1964, Anchorage, Alaska, was a modern-day frontier town yearning to be a metropolis—the largest, proudest city in a state that was still brand-new. But just before sundown on Good Friday, the community was jolted by the most powerful earthquake in American history, a catastrophic 9.2 on the Richter Scale. Genie Chance was a part-time radio reporter and working mother who would play an unlikely role in the wake of the disaster, helping to put her fractured community back together.
Hidden desires, long-held secrets, and the sacrifices people make for family are at the heart of THE DAUGHERS OF EIRIETOWN, the powerful first novel by the popular Pulitzer Prize–winning journalist Connie Schultz. The evolution of women's lives spanning the second half of the twentieth century is at the center of this beautiful novel that richly portrays how much people know—and pretend not to know—about the secrets at the heart of a town, and a family.
Mooallem is a longtime writer at large with The New York Times Magazine and a contributor to numerous other radio shows and magazines, including This American Life and Wired. His first book, WILD ONES: A Sometimes Dismaying Weirdly Reassuring Story About Looking at People Looking at Animals in America, was chosen as a notable book of the year by The New York Times Book Review. He lives on Bainbridge Island, outside Seattle, with his family.
Schultz is a Pulitzer Prize-winning writer and a professional-in-residence in the journalism school at Kent State University, her alma mater. She is the author of two memoirs, Life Happens and …And His Lovely Wife.
!!A reminder for PRH employees: If you are posting this article to a personal or other non-PRH account you must include the hashtag #TeamPRH.!!
Posted: April 28, 2020