Jonathan Karl In Conversation with Jim Falk via Zoom (5/19)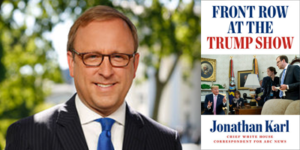 Jonathan Karl, Chief White House Correspondent for ABC News and author of FRONT ROW AT THE TRUMP SHOW (Dutton), will be in conversation with Jim Falk, President and CEO of the World Affairs Council of Dallas.Fort Worth, via Zoom on Tuesday, May 19 at 12:00pm (ET).
Karl is also President of the White House Correspondents Association, and brings readers into the White House in a powerful book unlike any other on the Trump administration. This is the real story of Trump's unlikely rise; of the struggles and battles of those who work in the administration and those who report on it; of the plots and schemes of a senior staff enduring stunning and unprecedented unpredictability.
!! As a reminder, if you are a PRH employee posting to a personal or other non-PRH account, you must include the hashtag #TeamPRH !! 
Posted: May 18, 2020