Jonathan Karl to Talk About FRONT ROW AT THE TRUMP SHOW at Commonwealth Club Virtual Event via Zoom (6/16)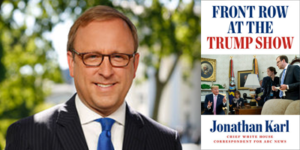 The Commonwealth Club presents Jonathan Karl, Chief White House Correspondent for ABC News and author of FRONT ROW AT THE TRUMP SHOW (Dutton), at a special virtual event via Zoom on Tuesday, June 16 at 8:00pm (ET).
Karl is also President of the White House Correspondents Association, and brings readers into the White House in a powerful book unlike any other on the Trump administration. This is the real story of Trump's unlikely rise; of the struggles and battles of those who work in the administration and those who report on it; of the plots and schemes of a senior staff enduring stunning and unprecedented unpredictability.
!! As a reminder, if you are a PRH employee posting to a personal or other non-PRH account, you must include the hashtag #TeamPRH !! 
Posted: June 14, 2020