Jordan Reid to Discuss Her Big Activity Books via Crowdcast (5/7)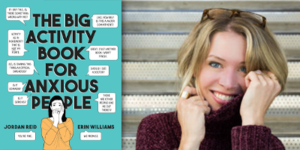 Jordan Reid, author of THE BIG ACTIVITY BOOK FOR ANXIOUS PEOPLE and THE BIG ACTIVITYBOOK FOR DIGITAL DETOX, both published by TarcherPerigee, will be in conversation with influencer Honestly Jamie via Crowdcast (register here) on Thursday, May 7 at 7:00pm (ET).
Part journal, part coloring book, part weird coping mechanisms, and part compendium of soothing facts, THE BIG ACTIVITY BOOK FOR ANXIOUS PEOPLE will be an outlet for anyone who wants to take a break from reality, laugh through her fears, and realize with every page that she is not alone–and to help her figure out what to do when it's 3AM and she's wide awake worrying about whether she cc'ed the right "Bob" on that email. (Probably.)
THE BIG ACTIVITYBOOK FOR DIGITAL DETOX is an incredible twofer—not only will it help curb your screen addiction, but it provides endless entertainment for all that newfound free time you'll have once you stop checking your high school boyfriend's Insta stories.
Jordan Reid is the founding editor of the lifestyle blog Ramshackle Glam and the coauthor of the bestselling Big Activity Book series. Her hobbies include creating unnecessary complications, cultivating a strong Cat Lady vibe, and maintaining an impressive collection of fake plants. She lives in California with her two children, twin orange tabbies, and a Roomba named Thanos.
!! As a reminder, if you are a PRH employee posting to a personal or other non-PRH account, you must include the hashtag #TeamPRH !! 
Posted: May 6, 2020